Details
Ric gives his Tip of the Week on having a backup plan in your career.
You may also like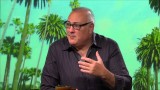 Host of Living Healthy, Living Well, registered dietician Ilana Muhlstein interviews one of her most successful clients, David Fishof, about his most effective tools and tips that helped him with his amazing weight l...
Comments are closed.